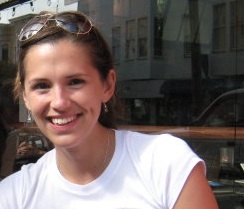 About Me: Work
I'm a communications practitioner and teacher. I've been working in communications since 2000, for corporations, non-profits and, since 2007, with the consulting firm Logos Consulting Group, where I'm a partner specializing in social media, crisis and strategic communications. I'm an adjunct instructor at New York University in the Master's in Public Relations and Corporate Communication program, and began teaching a new course on social media in January 2010. (I've been guest lecturing in that program since early 2008, and also guest lecture regularly in the MBA program at the Wharton School, University of Pennsylvania.)
In both my work and teaching, I'm interested in helping individuals and organizations understand the role of social media in the changing communications landscape.
About Me: Personal
I grew up in St. Paul, Minnesota, and try to visit at least a couple of times a year (preferably in the summer months). I went to Colby College in Waterville, Maine, where I got a degree in English and spent an idyllic semester in Sevilla, Spain and a summer in San Jose, Costa Rica. I lived in Seattle, WA, for about six years, and have been living in New York City since 2004. I got my M.S. in Public Relations and Corporate Communication at NYU (yes, the same program where I now teach). I live in Brooklyn and spends lots of non-Internet time traveling, cooking, reading mysteries, taking pictures, and keeping up with far-flung family and friends.
About: Tell-Tale Hart
This is my personal site. I'm interested in exploring topics concerning communications, public relations, social media and education. I welcome your comments and constructive dialogue. The title is a play on Edgar Allen Poe's macabre short story, The Tell-Tale Heart, but here it's used in the more literal sense, as in "telling tales."
Comment Policy
Comments are moderated.  (I will not edit any comments.) Please don't: attack, insult, spam, use foul language, go off topic or attempt to hide your identity.
Disclaimer + Disclosure
I don't write about specific clients (who trust my confidentiality). The general industries I currently work with are: finance, insurance, pharmaceutical, consumer products, non-profit, and professional service firms. I don't receive compensation to write about products or services on this site. I don't invest in individual stocks. My views here are my own, and not those of my employers.